Make a gift this season that will keep on growing!
It was ten years ago that City Slicker Farms first sprouted. Over the past decade, we've worked with so many amazing people. So, today I'm writing to introduce you to one of our local heroes: Valorie.

Valorie is a parent, a caregiver, and the center of her family. Like you, she cares about eating well. As a mother, she wanted to make sure that her daughter and sons knew what a fresh-from-the-garden tomato tasted like.

But a few years ago, when Valorie became ill and transitioned to a wheelchair, she wasn't able to continue gardening. On top of this, grocery stores are few and far between in this neighborhood and were now very hard to get to.

Through a friend, she learned about City Slicker Farms. At the time, founder Willow Rosenthal had just started developing the Backyard Garden Program, so that families could grow their own food in their own yards. When they met, Willow and Valorie sat down to make a plan for how they could build a garden together that would accommodate Valorie's needs and abilities.

This season, when we have so much to be thankful for, I am asking you to make a donation today, so that families like Valorie's can grow their own food and pass on the lessons of healthy eating for generations to come.

Eventually the time came to build the backyard garden. In just a few hours, Valorie's children and City Slicker Farms' volunteers built two raised beds – high enough so that Valorie could tend to the plants while in her wheelchair – filled them with rich soil, and planted seedlings.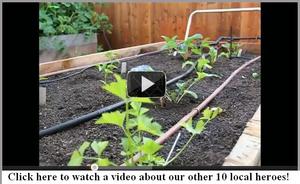 Valorie tells me it was her grandmother who taught her how to garden. Now, as a grandmother herself, she is passing on those lessons to her grandchildren, so that they learn about growing food and cooking healthfully. As you can see, there is a long tradition of farming and gardening here in West Oakland. And as Valorie says, "it's in the blood."

We are proud to work with Valorie and support her by making sure she has the tools and resources to continue gardening. Your help over the years has nurtured the growth of this program. Today, over 180 backyard gardens have been built. Each year, gardeners in this program grow over 20,000 pounds of food – fresh fruits and vegetables that make it on to their dinner table each night.

But we need your support to move forward. Despite all that we have accomplished together, there are still folks in our community that need support. 71% of our backyard gardeners often lack the money to buy food – many say at least once a month, and some say every week. That's why it's so important for us to connect these families with the tools and resources to ensure that they can reliably grow food for their own table.

I know that you've done a lot to help us in these efforts, and for that, I want to take this moment to thank you. I am truly grateful for all your support.

I wish you and your loved ones a warm and safe holiday season!

Barbara Finnin, Executive Director

P.S. We need your support today! You can make a donation online - it's that easy. And your gift will ensure that many more families like Valorie's can have the joy of growing their own fresh foods.