Check out the City Slicker Farms Newsletter
Did you know that City Slicker Farms has a monthly newsletter? This is the place to get the latest news about City Slicker Farms. If you're interested in receiving the newsletter, sign up on the "Receive Updates" section of our website (it's on the upper left hand side of the homepage). Read on to see what our newsletter is like.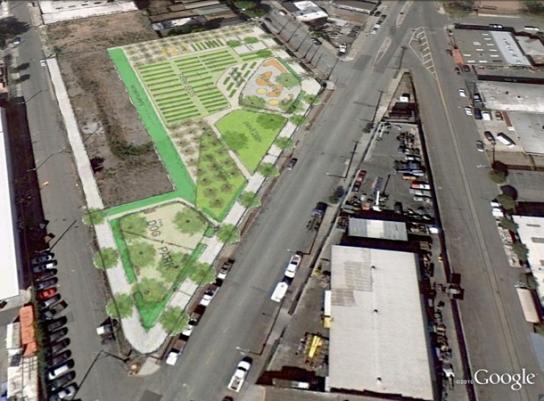 Progress with the West Oakland Urban Farm and Park Project
Prop 84 Grant
In November 2010 we were awarded a Prop 84 grant to create a "West Oakland Park and Urban Farm Project." Since the award of the grant we have convened a committee of experts to help us review and analyze the property we hope to acquire and to plan the new urban farm and park project. We are extremely grateful to these experts for donating their time and their highly skilled talents. We are focusing now on evaluating the target property and negotiating a purchase and will update you on how that goes.

---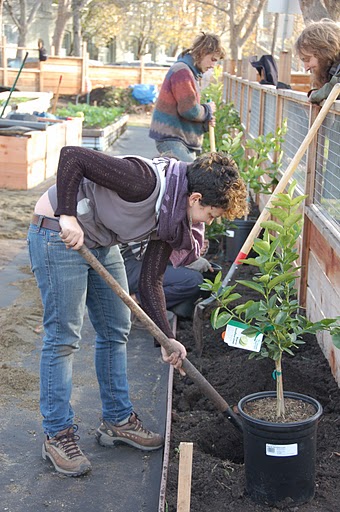 Come and Visit Us at Fitzgerald and Union Plaza Parks!
Thank you to everyone that came out and spent Earth Day with City Slicker Farms. The stage is built, fruit trees are planted, the perimeters are fully landscaped, and the fence doors are going up - all thanks to Star Apple Edible Gardens, Lignum Vitae, City of Oakland Parks and Recreation, and our awesome volunteers!

If you would like to get more involved with Fitzgerald and Union Plaza Parks, we are currently looking for volunteers to help water the newly planted blueberry bushes. Once we train you, this would be a self-directed weekly task for the next few weeks. We are looking for help on Tuesdays, Thursdays, or sometime during the weekend. If you are interested in helping and available during one or more of these days call Elyse at the office at (510) 763-4241.


---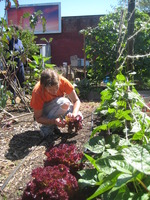 City Slicker Farms Youth Crew and Summer Internships
Starting in June, City Slicker Farms will be looking for youth (ages 14-24) interested in learning about the food justice movement and how to grow and distribute healthy food. West Oakland youth are strongly encouraged to apply. Participation in the Youth Crew requires 8-10 work hours per week and includes a $200 monthly stipend. Click here to apply. Paper applications will be available in our office starting in June. Please keep in mind our office hours are Tuesday-Saturday, 10 am – 5 pm. The youth internship application deadline is June 15th.

We are currently still hiring adult interns for our summer term (program and fundraising related opportunities). The adult internship will last from June 1st to mid August. Applications and a full job description of this internship opportunity can be found here.

---
HGTV's "Curb Appeal: The Block" Episode Featuring City Slicker Farms

Last fall, we invited all of our volunteers to come support us at the filming of HGTV's "Curb Appeal: The Block" as they built their first community garden. The episode featured City Slicker Farms and all of our volunteers who showed up to support. This episode will be airing Friday May 28th at 6:00 on HGTV's HD channel and 9:00 on HGTV's standard definition channel.
We've also been in the news a lot lately. Check out our media page to read about important updates about urban agriculture in Oakland.

---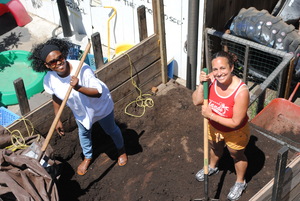 New Backyard Garden Mentor Orientation
Saturday, June 25th, 2011 from 2 - 4 pm
Ralph Bunche Nursery / 1240 18th Street, Oakland CA 94607
If you are an experienced gardener and would like to get more involved with City Slicker Farms, consider becoming a Backyard Garden Mentor. Mentors commit to volunteering for at least one year to provide quarterly follow-up visits and technical support to one or more households in our Backyard Garden Program. If you are interested in becoming a Backyard Garden Mentor, you must RSVP for this event in advance. For more information or to RSVP, please contact the Backyard Garden Team at byg@cityslickerfarms.org.
---
Welcome New Board Members and New Staff!

This month we have 6 new people to introduce.

Board Members
First up, we would like to introduce Darin Jensen and Julia Indovina, our two newest board members. Darin is a long-term volunteer, who you might have met during our Earth Day weekend workdays. He has been a superstar Backyard Garden Mentor for two years and has a positive attitude that is unavoidable and infectious. Julia is passionate about increasing access to healthy food within low-income communities and currently serves as Director of Communications and Member Services at Northern California Grantmakers.

Staff and Consultants
We have two new apprentices starting this week named Kevin Dole and Alison Fischman. Kevin Dole, a Michigan native, is a former City Slicker Farms intern who loves his big family with over 60 first cousins. Alison, also a former intern, enjoys camping, hiking and swimming in her free time.

We would also like to introduce Anna La, who formerly served as a board member, but is now serving as City Slicker Farms Development and Communications Manager. Anna loves yoga, and is passionate about cooking and gardening. Last but not least, Zakiya Harris, a former City Slicker Farms Backyard Gardener, is now our consultant for our summer Youth Crew. Zakiya is an Oakland native, and has been working as an artist, activist and educator for the past ten years.

Welcome Alison, Anna, Darin, Julia, Kevin and Zakiya! We're so glad to work with you.
---
Upcoming Event in Support of City Slicker Farms
June 14th, 2011 from 6 - 9
The Marsh Berkeley Arts Center / 2120 Allston Way, Berkeley CA 94704

The Bay Area chapter of NACE, the National Association of Catering Executives, will be supporting City Slicker Farms through a portion of its ticket sales at their upcoming event. Vegetarian Food for Thought will feature Chef and TV Personality Colleen Patrick Goudreau; using humor and wisdom she will tackle the most popular excuses to not eat a plant-based diet. For more information and to register for this event please visit San Francisco NACE's event page on their website.
---
Memorial Day Weekend
City Slicker Farms' office and all of it's Community Market Farms will be closed on Tuesday, May 31st. Regular office hours and volunteer drop-in hours will resume on Wednesday, June 1st.
---
Our Wish List:

Our programs rely on generous in-kind donations of supplies and materials. That old shovel sitting around in your garage could have a great new life in one of our gardens! If you have gardening tools or office supplies that you would like to donate, please contact us at (510) 763-4241 or info@cityslickerfarms.org. All donations are tax deductible to the fullest extent of the law. Here are a few things we are especially in need of right now:
Mason Jars (clean and labels removed)

Dresser for Apprentice House

Flat Screen Computer Monitors
Computers (2 Desktops and 1 Laptop, preferably PCs*)
Round Shovels
Newspapers for Worm Bin
Clean Egg Cartons

*Please contact info@cityslickerfarms.org if you would like to donate any computers.
Thank you for being a part of the City Slicker Farms community!