Your Donation Will Help Double the Amount of Food Grown in West Oakland
Have you heard the big news yet? City Slicker Farms was awarded a Proposition 84 grant from the California Department of Parks and Recreation to purchase a 1.4 acre vacant lot in West Oakland and to construct a new "West Oakland Urban Farm and Park." This farm will more than double our production, allowing us to grow and distribute twice the amount of produce to low-income families in West Oakland.
We hope you will share the bounty this season by making a generous contribution to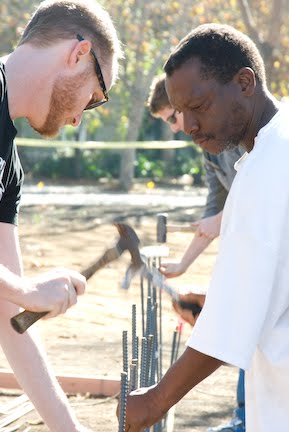 City Slicker Farms. Why is your donation so important at this time? Although, this Proposition 84 grant covers the purchase and construction of the new urban farm and park, we need additional funding from community members like you to operate and maintain this new community green space. By contributing to City Slicker Farms now, you are joining us on this exciting new endeavor that will help us reach more individuals and families than ever before.
Healthy food is a human right and at City Slicker Farms, we help people become more self-sufficient and meet their food needs every day. City Slicker Farms currently maintains seven Community Market Farms and has helped hundreds of residents build and maintain Backyard Gardens. Over the past year, City Slicker Farms partnered with community members to grow and distribute over 20,000 pounds of fresh, organic produce!
The fruits and vegetables grown in our Community Market Farms and Backyard Gardens are the only source of fresh produce for many people in our neighborhood. Consider, for example, Darbi, a Backyard Garden Program participant:
"My daughter is two and a half, and she has grown up with the garden. The only greens she gets come from our garden beds… I have given some of the bounty to community members. Once a young man on a skateboard commented how much his mom would like my collards. I gave him a bunch for her to cook, and he was elated. I feel like it is our responsibility to share the wealth, and I am able to teach my daughter this process while also enhancing her body with healthy food that we grow."
At City Slicker Farms our work is not just about growing thousands of pounds of vegetables; it's about partnering with people to build a basic foundation for a healthy, productive, thriving life. Larry, for example, is a Backyard Gardener who has quickly built his skills as an urban farmer. Like so many of his neighbors in West Oakland, Larry wants to eat healthy but finds it hard to afford organic produce in stores. For his family, the garden is an important source of fresh food. He grows a wide variety of greens, from arugula to kale and collard greens to mustard greens; as well as beets, radishes, and spinach. Thanks to your support, throughout the year Larry and all the Backyard Gardeners have the support of volunteers and apprentices at City Slicker Farms who answer their questions and provide them with seeds and compost as they build their urban farming skills.
This is a historic moment for City Slicker Farms and a critical time of growth. With your support, we will continue empowering thousands of inner-city residents to grow their own food and build a foundation for a healthy, productive life while inspiring others in the food justice movement all across America! Please consider making a donation to City Slicker Farms today. Your contribution will put the tools to grow healthy, fresh food in the hands of those who need it the most. We want you to know that we are grateful for whatever gift you make.
In thanks and best wishes for the holiday season,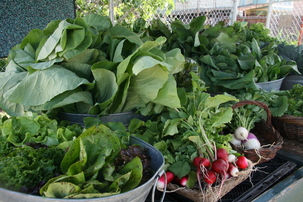 Barbara Finnin
Executive Director
P.S. As the holiday season approaches, many of us will be remembering all that we have to be thankful for, especially the good food we enjoy. Your gift will provide much more than just one or two holiday meals; it will provide access to fresh, healthy, affordable food for low-income families every day of the year. Please be as generous in your giving as you can. If you'd like to learn more about our work, please check out our new website.